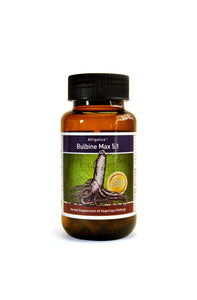 Biosil
Bulbine: Testosterone Booster
Regular price
R 395.00
R 0.00
PRODUCT:  Bulbine - testosterone stimulant : (60 vege capsules) 300 mg each.  35% More testosterone in 2 weeks 
DESCRIPTION: Bulbine Natalensis is a safe, effective, testosterone stimulant. It offers a safe and natural way of rapidly increasing testosterone levels, with benefits such as stronger muscles, reduced flabbiness, an increase in stamina, reduced fatigue and an increased sex drive. Bulbine is well known as a powerful traditional aphrodisiac
Vernacular names
Obhucu (Zulu); rooiwortel (Afrikaans)

Serving size : 2 capsules
Servings per container : 60
Amount per serving : 360 mg per vegecap
Suggested use : Take 2 caps per day.
For optium results please cycle this product for 2 weeks on and 2 weeks off
Do not use continuously for extended periods
Contains no sugar, starch, yeast, artificial colours or preservatives

BENEFITS:
Traditional uses
Bulbine has been used for centuries by the Zulu people of South Africa as a testosterone booster. In ancient times Zulu warriors would take Bulbine before a battle to give them extra strength, courage and stamina. Bulbine is also used as an effective libido enhancer and aphrodisiac

Contraindications:
During years of use as a traditional herbal medicine in South Africa Bulbine natalensis has shown no adverse effects. If taking medication, discuss with your healthcare professional before use. Do not use during pregnancy or lactation. Do not take for extended periods of time
1. Authenticity
Afrigetics is an award winning South African company that specialises in wild harvested indigenous herbs and our freeze-dried, cold water soaked Bulbine natalensis extract is exported to companies across the globe. In order to assure our customers we have developed the first verification standard using HPTLC to identify true Bulbine natalensis. This process required a horticulturist verified Bulbine natalensis voucher specimen to be compared to other local Bulbine species and the result is that we can verify that each batch of Bulbine produced is 100% pure Bulbine natalensis.
2. Efficacy
We have performed a simple in-house trial of our proprietary Bulbine natalensis extract which has shown good results. Our Bulbine extract was taken by a single subject and blood tests were used to determine testosterone production. The results were verified by a doctor and showed a 35% raise in testosterone in only 2 weeks.
3. Trial results
Trial results prove significant testosterone spike after 2 weeks: 
A two week informal trial was conducted on a 38 year old male using a daily dosage of Bulbine extract. The subject was a healthy 38 year old male weighing 78kg. The subject was asked to supplement 2 vegecaps each containing 360mg Bulbine PE (720mg total) daily before bed and continued to take them from a period starting 13 Dec 2010 to 31 Dec 2010. Blood tests were conducted once at the beginning of the trial and once at the end of the trial and then in 3 periods of roughly 2 to 3 weeks (19 Jan 2011, 9 Feb 2011, 24 Feb 2011).
DISCUSSION:
The initial results suggests that total and free testosterone were both increased by the use of supplementing Afrigetics Botanicals Bulbine PE by about 35% in a period of 2 weeks and remained high for 21 days. The conclusion was that there was sufficient preliminary evidence to show that Bulbine PE by Afrigetics Botanicals could in fact raise testosterone (TT and
FT) by around 35% in about 2 weeks and remained high for nearly two months.
| | | | | | |
| --- | --- | --- | --- | --- | --- |
| Test Type | 13/12/2010 | 31/12/2010 | 19/01/2011 | 09/02/2011 | 24/02/2011 |
| Total Testosterone | 13.0 | 17.7 | 17.9 | 16.8 | 13.5 |
| SHBG | 25.7 | 28.2 | 28.3 | 27.2 | 26.9 |
| Free Testosterone | 301 | 407 | 412 | 385 | 307 |
| *Oestradiol | Not tested | 88 | 129 | 124 | 73 |
Bulbine Natalensis on Examine.com
VERIFIED RESULTS:
Expect 35% more testosterone in 2 weeks. Bulbine natalensis by Afrigetics is wild harvested and extracted using an advanced ultrasonic and freeze-drying process that enhances the testosterone boosting potential of the herb. our extract has been on the market since the start because Afrigetics is the original bulk supplier of this ingredient to companies around the world. Afrigetics Botanicals Bulbine natalensis extract was made under the guidance of an internationally recognized bodybuilding coach as an ingredient for some of the leading sport supplements companies in the USA and Europe and this is the very same ingredient you will find in our Bulbine Max 5:1: pure Bulbine natalensis freeze-dried extract. A two week informal trial was conducted on a 38 year old male using a daily dosage of Bulbine extract. The subject was a healthy 38 year old male sportsman weighing 78kg and a preliminary assessment of the subject by Dr Reinette Vos found him to be fit and healthy; blood tests revealed no abnormalities. The subject was not using any other supplements in his training other than Bulbine natalensis PE. The subject was asked to supplement 2 vegecaps each containing 360mg Bulbine PE (720mg total) daily before bed and continued to take them from a period starting 13 Dec 2010 to 31 Dec 2010. Blood tests were conducted once at the beginning of the trial and once at the end of the trial and then 3 periods of roughly 2 to 3 weeks (19 Jan 2011, 9 Feb 2011, 24 Feb 2011) and finally on the 1 April 2011. Oestradiol was also tested during the period after the initial supplementation phase. Results: Test Type 13/12/2010 31/12/2010 19/01/2011 09/02/2011 24/02/2011 01/04/2011 Total Testosterone 13.0 17.7 17.9 16.8 13.5 11.3 SHBG 25.7 28.2 28.3 27.2 26.9 28.2 Free testosterone 301 407 412 385 307 245 *Oestradiol Not tested 88 129 124 73 Not tested * Subjects average Oestradiol without supplements assumed to be between 70 and 90 Discussion: The initial results suggests that total and free testosterone were both increased by the use of supplementing Afrigetics Botanicals Bulbine PE by about 35% in a period of 2 weeks and remained high for 21 days. The conclusion was that there was sufficient preliminary evidence to show that Bulbine PE by Afrigetics Botanicals could in fact raise testosterone (TT and FT) by around 35% in about 2 weeks. Bulbine natalensis on Examine.com
---
More from this collection